We bake mouth watering treats daily. Our flavours are constantly changing, but you can always order in advance if you would like to ensure your favourites are available. We are often creating new items which we share on our Instagram Page. Our talented bakers are always innovating, come in, say hello and taste something new and amazing.
How much do your cupcakes cost?
Standard cupcakes are $3.25 each, or $18/half dozen, $34/dozen. Custom cupcakes start at $4.25 each with the final price depending on the design.
How many flavours of cupcakes can I order?
We require a minimum of 4 cupcakes per flavour, to a maximum of 6 flavours for custom cupcake orders.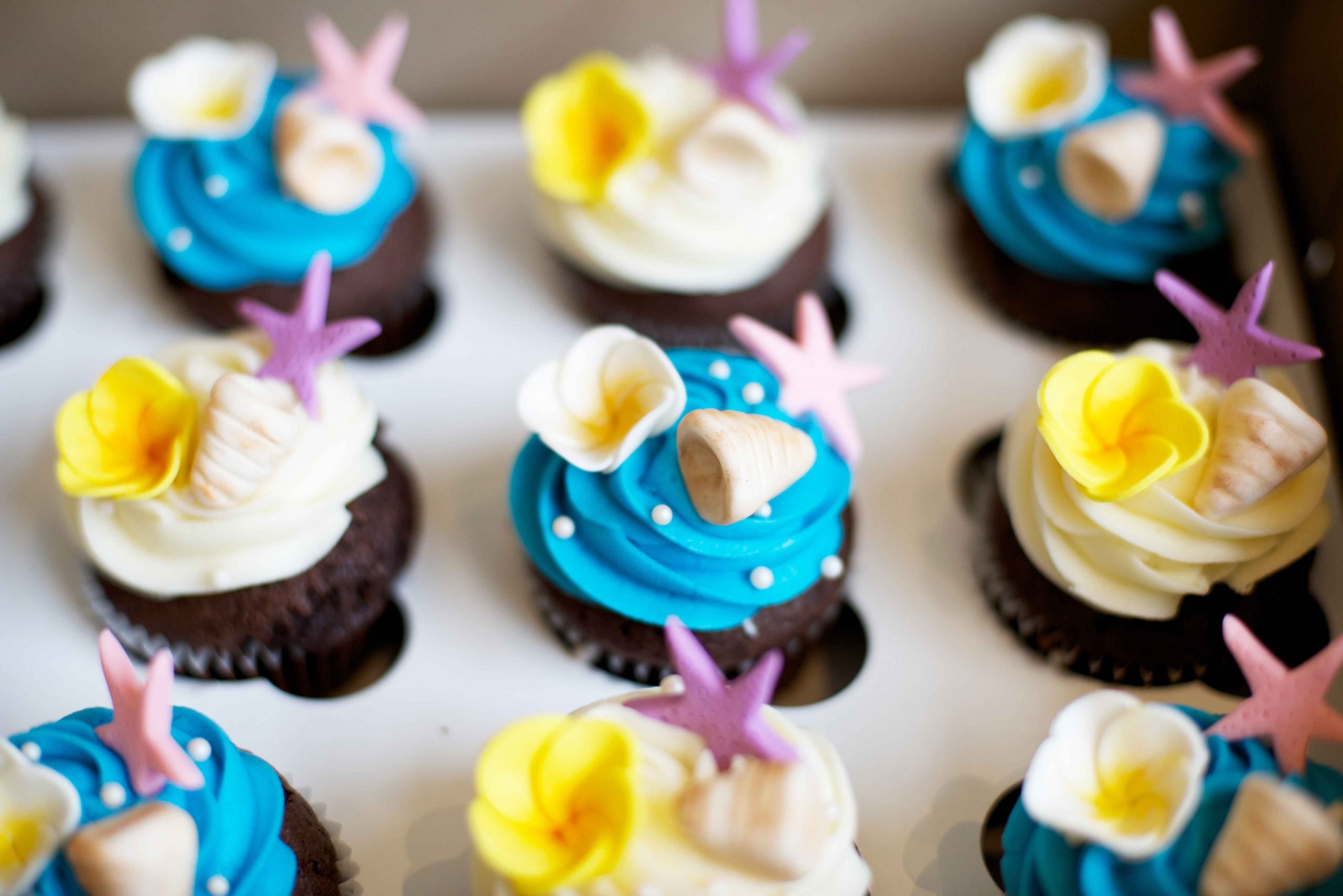 Almond
Almond Caramel
Apple Cinnamon
Banana Caramel
Banana Chocolate
Banana Chocolate Chip
Banana Peanut Butter
Banana Split
Banana Strawberry
Birthday Cake
Blueberry Almond
Blueberry Cheesecake
Blueberry Lemon
Butterscotch
Butterscotch Ripple
Café Mocha
Caramel Apple
Caramel Macchiato
Caramilk Bar
Carrot With Cream Cheese
Chai Tea
Cherry Cheesecake
Cherry Chip
Cherry Chocolate Chip
Chocolate Almond
Chocolate Almond With Cherries
Chocolate Blueberry
Chocolate Candy Cane
Chocolate Caramel
Chocolate Cherry
Chocolate Chili
Chocolate Coconut
Chocolate Peanut Butter
Chocolate Raspberry
Chocolate Strawberry
Chocolate Vanilla
Chocolate With Cream Cheese
Coconut
Coconut Lime
Cookies and Cream
Double Chocolate
Double Chocolate Cherry
Eggnog
Eggnog Latte
Gingerbread
Hot Chocolate
Lavender Caramel
Lemon
Lemon Blueberry Cheesecake
Lemon Cheesecake
Lemon Lavender
Lemon Lime
Lemon Raspberry
Lemon Raspberry Cheesecake
Lemon Strawberry
M & Ms
Maple
Maple Carrot
Maple Walnut
Marble
Marble Salted Caramel
Mini Egg
Mint Chocolate
Mint Oreo
Mocha Almond
Moose Tracks
Mud Pie
Oreo Candy Cane
Peaches and Cream
Peanut Butter and Jam
Pineapple
Pineapple Coconut
Pink Lemonade
Pumpkin Spice
Pumpkin Spice Latté
Raspberry Cheesecake
Raspberry Coconut
Raspberry Oreo
Raspberry Rhubarb
Red Velvet
Rhubarb Cheesecake
Rocky Road
S'mores
Salted Caramel
Skor Bar
Strawberry Cheesecake
Strawberry Oreo
Strawberry Rhubarb
Toasted Almond With Peaches
Toasted Almond With Raspberry
Triple Chocolate
Tuxedo Chocolate
Vanilla
Vanilla Blueberry
Vanilla Candy Cane
Vanilla Raspberry
Vanilla Strawberry
Wellington Cream Egg
White Chocolate
White Chocolate Blueberry
White Chocolate Raspberry
White Chocolate Strawberry
Call or email for large orders.